We offer a complete line of aprons, white coats, white towels, shop coats, coveralls, shop towels, treated dust cloths and car dusters.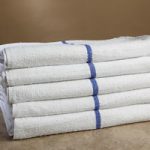 100% Cotton Terry Towels
Bar Towels
The 17x20, 32 oz. full terry bar towel is the workhorse in the industry. Its special low pile construction delivers strength, absorbency, and durability, making it a proven, reliable performer. Used primarily for clean-up in restaurant and bar environments.
Grill Towel
Made from sewing together three of our heavy duty bar mops, our grill towels are useful for cleaning restaurant grills and other commercial appliances.


Bath Towels: 20x40
Hand Towels: 15x25
Wash Cloths: 11x11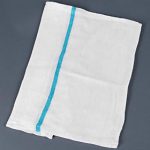 Dish Towel
Also known as a flour sack towel, this towel is useful for various kitchen tasks, such as drying dishes, polishing glassware, and covering rising dough or baked goods.
28x37, 2X1 weave, non-terry towel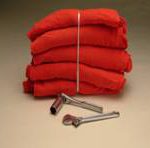 Shop and Print Towels
18x18 heavyweight construction. Specially woven for absorbency and durability, our unbleached cotton shop towels are dyed red or purple for specific uses. An indispensable favorite of mechanics and industrial workers, our low lint red shop towels can be used again and again to absorb grease and oil, clean equipment, and wipe tools and supplies clean. Our purple shop [print] towels are typically used in print shops to wipe ink off of equipment.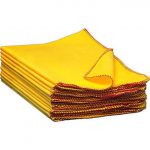 Dust Cloths and Car Dusters
Our soft, yellow flannel cloths are 100% cotton and won't scratch fine surfaces. Treated with the same fluid as our dust mops, these towels are ideal for automotive and office dusting, polishing and cleaning.
14x24 and 36x42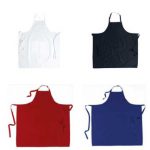 Bib Aprons
6.4 oz. spun polyester with tubular ties.
Designed for optimum comfort, style, and protection.
Available in black, white, royal, and red.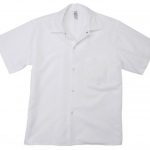 Cook Shirt
Our basic kitchen shirt is made of a cool, lightweight, and durable 65% polyester/35% cotton poplin fabric. Using stainless steel gripper snaps to guard against dislodged buttons, this shirt is perfect for food handling.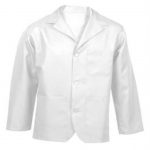 Lapel Coat
5 oz poplin, 80% polyester/20% combed cotton
Left chest patch pocket, two lower patch pockets
Three pearl buttons
Available in sizes 34-58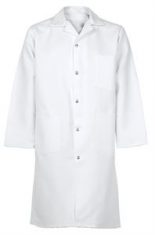 Butcher Coat
7.2 oz. 100% polyester with 6 Stainless Steel Gripper Snaps.
One inside left chest patch pocket, two lower patch pockets
Available in sizes small to 5XL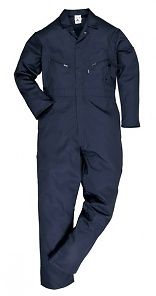 Coveralls
7.75 oz. twill 65% polyester/35% cotton
Two-way brass zipper, concealed snaps at top of and at lapel
Two set-in front pockets, two patch hip pockets, two chest patch pockets, ruler pocket
Available in sizes 42 to 58. Sized to be worn over clothes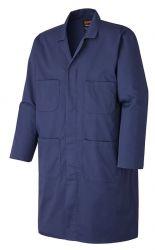 Shop Coat
7.25 oz. twill 65% polyester/35% cotton
Five concealed gripper snaps
Two upper chest patch pockets, two lower chest patch pockets side openings and back vent
Available in sizes 42 to 58